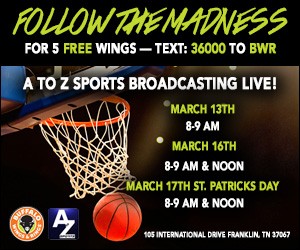 If you haven't been catching the guys from A to Z Sports on Facebook Live or Periscope, you are missing one of the more entertaining sports talk shows in the Mid-State. Both Austin and Zach were formerly with ESPN Radio in Nashville as the morning drive time show (6am-9am) before moving to an All-Digital Platform.
Austin Stanley was raised in Brentwood, TN and received a degree in Sports Journalism and Electronic Media from the University of Tennessee. A life long UT fan, he has been able to, somewhat, put that aside and use his knowledge of the Vols and the SEC in sports talk.
Growing up in Franklin, Zach Bingham was the play-by-play announcer for football, basketball & baseball at Battle Ground Academy. Attending Ole Miss for college, he got an overall view of the SEC sports landscape working for the Rebels flagship station in Oxford, MS.
These guys will be helping you dodge the pitfalls of your NCAA Bracket with Live Shows from Buffalo Wings and Rings in Cool Springs. They will be live there on Monday morning at 8:00 a.m. to discuss Sunday's NCAA Bracket reveal. Thursday they will do a Live show again in the morning at 8:00 a.m. and then again at noon as the Madness officially tips off with a full slate of games . On Friday, St. Patrick's Day, they will again do 2 shows, one at 8:00 a.m. and again at noon.
Buffalo Wings and Rings has plenty of TVs and plenty of great deals. From their 5 free wing special (see ad above) to $1.25 Tender specials every Wednesday. Coming out to catch the guys for lunch? Here's our  Final Four picks on the Menu: